• We will process your order within 2 business days unless an order processing delay has been noted on the website.
• Orders once shipped usually take around 2-5 business days to be delivered. A tracking number will be provided with your shipment confirmation email.
• To ensure timely deliveries, please provide the complete shipping address including zip code and a contact number.
• Orders once shipped, cannot be cancelled or changed.
• In the unlikely event that the product arrives damaged or broken, our carriers & shippers require photo documentation for reimbursement & quality control. Please click a photo
and e-mail the image to hello@worldofeira.in with your name, order reference number and a brief message, and we will look into this matter immediately.
Lovely Lilia !
EIRA !
It all started at the vegan market pop up show organised at Jinvara , Yelahanka .
My wife and I were strolling through the stalls and bumped into EIRA. I recall there was another stall selling candles, but I must say it was destiny that took us to the world of EIRA…and we are extremely glad and grateful.
Firstly, the fragrance of the candle was so soothing we couldn't resist it. I am allergic to certain fragrances and was reluctant to purchase one.
Believe me after interacting with Karishma I was convinced that the ingredients used were pure and natural.
And of course they were…., I lit the candle on my wife birthday which made the celebration more beautiful, moreover it didn't trigger my allergy. Our house was ,filled with the fragrance of lavender, vanilla and citrus.
We are not exaggerating, after a long day at work, in the evening when we light the candle it makes us calmer , relaxed and happy!
It really is an excellent natural scented brand that allows for luxurious ambience. Thank you so much once again and we are grateful to have a brand we can rely on.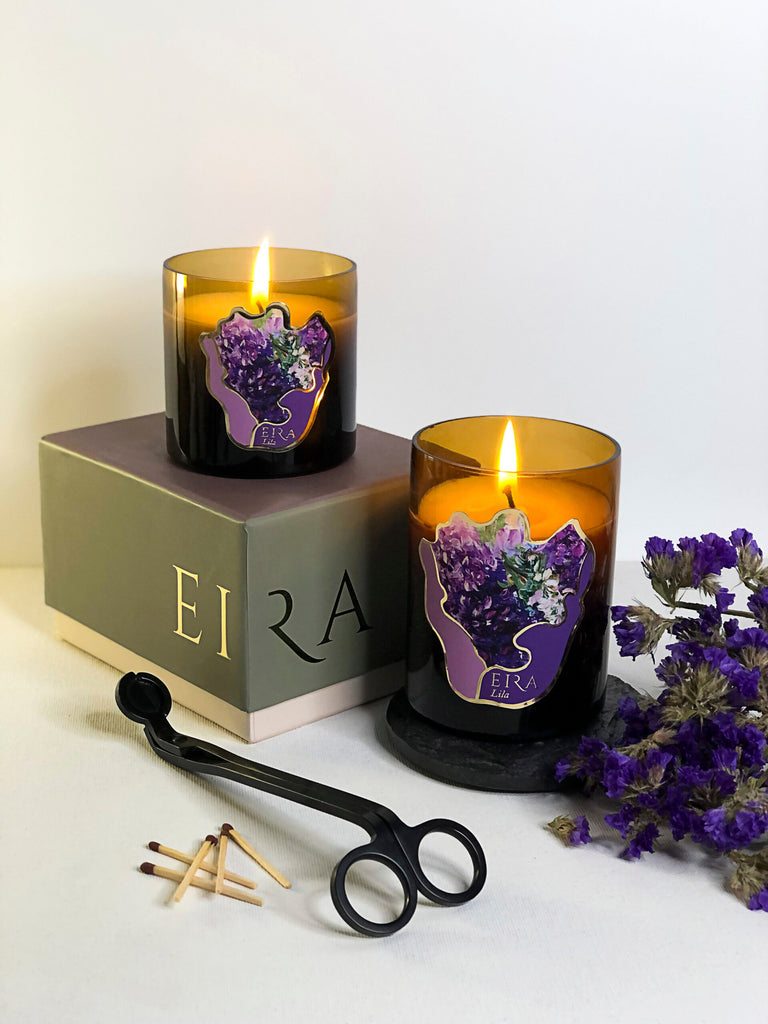 Candle Care Tips
Allow the first light of your candle to burn for 2 – 3 hours until the entire top layer has melted
Trim the wick to approximately 3- 5mm in between each burn
Refrain from keeping lit candles in a draughty area as this will cause them to burn faster
When extinguishing the flame, ensure the wick is upright and centered